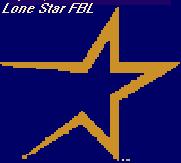 WEEK 8 RESULTS
Ashe Co. Cheese 529.3
Yellowfin Tuna 464.7
Chiliheads 454.7
Disastros 454.3
Mystery Hill 419
Sugar Hill Gang 417
Oaktown Stars 412.7
BarleyMalts 410.7
DCutters 374.3
Goofballs 356.3
DNAPhreaks 320.7
Orange Co. 317
Termites 308.7
---
Disastros week 8
1b Dunn 46
2b Spivey 45
ss Rodriguez 32
3b Ramirez 28
c Varitek 21
of Bonds 26
of Alou 26
of Dye 39
dh Thomas 24
sp Maddux 41.7
sp Oswalt 11
sp Ishii 36.3
sp Lowe 41
sp Dessens 31
rp Kim 6.3
TOTAL = 454.3
DNA Week 8 points
C Lo Duca, Paul (C, 1B-LA) 22
1B Bagwell, Jeff (1B-Hou) 19
2B Ortiz, Jose (2B-Col) 11
3B Chavez, Eric (3B-Oak) 14
SS Uribe, Juan (SS-Col) 22
OF Gonzalez, Luis (LF-Ari) 33
OF Jones, Andruw (CF-Atl) 26
OF Cruz, Jose (CF, LF-Tor) 11
Util Johnson, Nick (1B, DH-NYY) 19
SP Mussina, Mike (SP-NYY) 72.66
SP Wood, Kerry (SP-ChC) 47
SP Perez, Odalis (SP, RP-LA) -5
SP Rogers, Kenny (SP-Tex) 34
SP Ritchie, Todd (SP-CWS) -8 <-----way to stop the ball with your face
RP Sasaki, Kazuhiro (RP-Sea) 3
total 320.66


Mystery Hill
Week 8 Results
c Kendall 29
1 Thome 32
2 Alomar 19 WASTE...ABSOLUTE WASTE OF A #1 PICK!!!! WASTE
ss Jeter 28
3 Glaus 21
of Williams 40
of Hollingsworth 41
of Lawton 13
dh D. Young 38
sp D'Amico 42
sp Brown 10
sp Williams 73
sp Oliver -8
sp Drese 37
rp Smoltz 4
TOTAL 419
Oaktown - Week 8
1b Sexson, MIl 31
2b Sanchez, Bos 23
3b Ventura, NYY 30
ss Guillen, Sea 22
c Fick, Det 24
of Sosa, Chc 58
of Nixon, Bos 10
of Patterson, Chc 23
dh Wilson, Fla 34
sp Kennedy, TB 57
sp Zito, Oak 50
sp Hudson, Oak 9.3
sp Pineiro, Sea -3
sp Fogg, Pit -7.7
rp Isringhausen, Stl 52
Total pts 412.6
Goofballs Lineup - Week 8 356.33
C Marrero, Eli (Stl) 26
1B Palmeiro, Rafael (Tex) 20
2B Biggio, Craig (Hou) 41
3B Jose Valentine (ChW) 10
SS Rollins, Jimmy (Phi) 16
OF Floyd, Cliff (Fla) 20
OF Cameron, Mike (Sea) 13
OF Giles, Brian (Pit) 83 (wow!!)
DH Encarnacion, Juan (Cin) 30
SP Tomko, Brett (SD) -1
SP Clemens, Roger (NYY) 3.67
SP Byrd, Paul (KC) 11
SP Schoeneweis, Scott (Ana) 8
SP Reitmsa, Chris (Cin) 37
RP Percival, Troy (Ana) 38.67
TOTAL 356.33
Cheese Wk 8
Barrett 12
Sweeney 51
Abernathy 14
Hillenbrand 38
Nomar 40
Walker 54
Pierre 36
Green 100 (A new record?)
Damon 34
Pedro 42
Halladay 38.33
Sabathia 38
Neagle 6
Lawrence 14
Mesa 12
Total 529.33

BMalts Week 8 Points
Schilling sp 39
Moyer sp 50
Trachsel sp 10
Nomo sp 38
Cornejo sp 8.67
Hoffman rp 21
Johnson c 9
Klesko 1b 33
Vina 2b 42
Rolen 3b 23
Vizquel ss 28
Drew of 26
Berkman of 18
Pujols of 43
Fullmer dh 22
TOTAL 410.67
--
TERMITES
C Hernandez, Ramon*20
1B Giambi, Jason 49
2B Vidro, Jose 48 21 game hitting streak!!!
3B Cirillo, Jeff 3 Feel the love, Lou
SS Eckstein, David* 5 Come on, suck it up
OF Suzuki, Ichiro 29
OF Sheffield, Gary 3 Hamstring. It should be called hamperstring.
OF Hidalgo, Richard 4 ??????
DH McGriff, Fred 66 Who let the dog out?

SP Padilla, Vicente 36
SP Kile, Darryl 13
SP Mulder, Mark -4.4 I need pitching
SP Dempster, Ryan -2 I need pitching
SP Burba, Dave -2 I need pitching
RP Koch, Billy 41
Total 308.6 Pathetic.
playas
1b-konerko-40
2b-boone-25
3b-hinske-20
ss-halter-8
c-piazza-19
of-burrell-48
of-giambi-30
of-stewart-13
dh-vaughn-17
sp-lieter-2
sp-castillo-1
sp-weaver-65
sp-vadles- -2
sp-washburn-15
rp-beitez-16
total-317
TUNA BOY
C- MILLER 25
1B- DELGADO 15
2B- DURHAM 42
3B- BOONE 29
SS- GUZMAN 24
OF- ORDONEZ 37
OF- SIERRA 30
OF- KEARNS 30
DH- GIBBONS 19
SP- VASQUEZ 23.67
SP- GARCIA 41
SP- JOHNSON 52
SP- DUCKWORTH 13
SP- BUEHRLE 49
RP- FOULKE 35

TOTAL = 464.67
CHILIHEADS WEEK 8 POINTS
POSADA 21
HELTON 62
SORIANO 56
TEJADA 40
ALFONZO 23
EDMONDS 42
BELTRAN 46
ERSTAD 23
SALMON 26
SELE 10.67
ORTIZ 1.33
APPIER 34
THOMSON 36
STEPHENSON 1.33
RIVERA 32.33
----------------------------------------------
TOTAL 454.67
SHG
Week 8 Points
THall 5
SCasey 20
JKent 28
TZeile 34
RFurcal 29
GAnderson 31
CJones 22
KLofton 38
EDurazo 14
BColon 62
TGlavine 56
ELoaiza 1.3
FDWells 5.7
KWells 35.7
EGagne 35.3
TOTAL 417
DCutters
C Gil 24
1 Olerud 33
2 Counsel 46
ss Caberra 22
3rd Bell 33
OF Guererro 21
OF Abreu 20
OF Sanders 30
DH Cedeno 18
SP Milton 73
SP Hernandez 10
SP Astacio 9.3
SP Hiljus 6.6
SP Morris 7.3
RP Urbina 21
Total 374.2