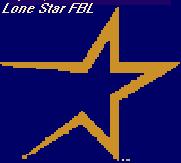 WEEK 26 RESULTS

Disastros 521
GA Clones 488
Mudslingers 453
DCutters 437.7
Monkeys 384.7
Oaktown 384.3
Mystery Hill 369
Pirates 322.7


______________________________________________________________

Disastros week 26
c Varitek 14
1b Helton 39
2b Lopez 63
3b Jones 21
ss Furcal 20
of Abreu 23
of Ramirez 59
of Dunn 22
dh Belliard 33
sp Oswalt 76
sp Clemens 37
sp Wakefield 34
sp Wells 37
sp Seo 40
rp Hermanson 3
TOTAL = 521

But, here are my week 26 points.

Hernandez - 32 (except when he was hurt, he really did what I'd hoped)
Konerko - 46 (a little streaky, but good overall performance)
Polanco - 18 (a great pickup at 31)
Chavez - 31 (I guess his last 1/2 was worth the wait)
Barmes - 31 (damn deer meat)
Kotsay - 15 (another solid year for the Monkeys, even with the back)
Guerrero - 13 (never popped like I'd hoped he would - only got 4
starts this week, dammit)
Mench - 15 (despite the Commish's disdain of Mench, he was a solid
OF for the Monkeys - Thanks Irv.)
Peralta - 17 (Thanks to Slick Willy for throwing me this "bone" when
he took Hall in the waiver draft - loved having a
terrific player from the Tribe - wish they'd made the
playoff)

Peavy - 13 (I lost his 2nd start to the playoffs)
Kazmir - 38 (I lost his 2nd start to save his arm for next year)
Capuano - -.66 (got an unexpected start from him - he lost)
Benson - 34.33
Burnett - 0 (lost his start to a temper tantrum)
Nathan - 72 (the Monkeys appreciate your service, Joe)

Total - 384.66

MeanMary, already looking forward to next Spring.


all of haiti is abuzz with the end of the regular baseball season. now
attention can be turned to the truly urgent matters: placing a voodoo
curse on the commish for next season. since steve was so critical of me
trading away all of my freezes for next year, i decided to start all of
the potential freezes that are *still* on my roster in the last week.
still think i gave everyone away, stevie boy???

week 26 points


hall 13
hillenbrand -4 (stud)
cano 26 (possibly a freeze)
wright 48 (most likely a freeze)
gonzalez 0 (no shortstops left to play at end of season)
crawford 1 (huh?)
lane 31 (another possible freeze)
rios 12 (another possible freeze)
sizemore 3 (most likely a freeze)
willis 16 (really really want to freeze this guy)
maddux 12.33 (farethewell, hiawatha, farethewell)
haren 38 (another possible freeze)
ramirez 16.33 (hope he pitches like this against 'stros)
duke 74 (another sure freeze)
hoffman 24 (no freeze here, but solid year. go padres)


Though I started out in a hole, I worked my way out and ended up
playing for the second half. Though it was a lot of fun, it is
painful to know that Steve won again. I spent most of the week giving
him as much crap as I could, figuring the ending would be his, at
least I would get to needle him for 7 days. Unfortunatley, the next 6
months belong to him. Congrats to Steve and Joanthan for walking away
with all my money. Since the BoSox got off the schneid last year, I
guess I'll adopt their old mantra: Just Wait 'Til Next Year!

Week 26 Tally
Martinez - 18
Ortiz - 42
Counsell - 9
Rodriguez - 55
Tejada - 27
Burrell - 27
Lee - 26
Sheffield - 49
Cabrera - 25
Cain - 9.3
Claussen - 0.3
Loaiza - 36
Padilla - 38.3
Schilling - 48.3
Wagner - 42.7
TOTAL - 453


Another fantastic year of LSFBL. Thanks to Steve for manipulating it
in his favor....err.... I mean, "being the great and wonderful
commish".

My season unravelled with the demise of Gagne but it was a load of
fun being in the top four the majority of the season.

Have a great winter. Tim


Mystery Hill
Week 26 Results

c I. Rodriguez/Methany 9
1 Delgado FL 7
2 Mueller BOS 14
ss Jeter NYY 47 Thank God for the Pennant Race
3 Beltre SEA 12
of Matsui NYY 50 Thank God for the Pennant Race
of Ibanez SEA 24
of Crisp CLE 10
dh Shelton DET 18

sp Santana MIN 79
sp Mussina NYY 3
sp Liriano MIN 40
sp Tomko SF 55
sp Sosa ATL 1
rp Looper MET 0
TOTAL 369


Pos Batters Total
C J. Kendall 27
1B R. Sexson 27
2B M. Giles 21
3B J. Randa 13
SS J. Rollins 52
OF L. Berkman 25
OF B. Clark 38
OF J. Gomes 3 (Regret is a painful pill.)
DH A. Huff 21
Pos Pitchers Total
SP J. Lieber 44
SP B. Myers 57.7
SP B. Webb 41
SP A. Eaton 48.3
SP B. McCarthy 35.3
RP F. Cordero 34.7
Total 488

Well, I threw everything I had at da commish and he still managed to
beat me out. He took the 1st half from me in a surprising come from
behind fashion and Steve just plain slapped me around this week. With
5 SP getting double starts, everybody gave me 1 win, but no one stood
up and took their game to the next level.

Overall, I'll have to say that this was the most enjoyable LSFBL
season I have had, but also the most disappointing. In my 4 years in
the league, I have never won a half (despite having a shot at the
first half the last three yrs). I'll be back next year to try and
thwart Steve again. Until then, I can only hope that the Braves send
the Houston Stros home crying. It was a great season everyone. Ya'll
take care.

Jonathon


Oaktown - wk 26
1b Swisher 24
2b Utley 73
3b Blalock 12
ss Garciaparra 30
c LaRue 5
of M.Cabrera 31
of Winn 56
of Damon 47
dh Hafner 20

sp E.Santana 75.7
sp Buehrle 11.7
sp J.Johnson 9
sp Weaver 1
sp Elarton -11
rp C.Cordero 0
Total pts 384.4

DiamondCutters points
C Lo Duca 2
1 Hinski TOR 49
2 Figgins LAA 45
ss Rentaria BOS 38
3 Freel CIN 38
OF Ichiro SEA 33
OF Gonzalez ARI 32
OF Blake CLE 20
DH Uribe/Gonzalez 34
SP Sabathia CLE 32
SP Chen BAL 41
SP Bush TOR 7
SP Wells PIT 32.3
SP Millwood CLE 16
RP Street OAK 18.3
TOTAL 437.6

Thanks all for a great ride. Didnt finish in last, thanks Steve for
picking me to finish last as usual.