Lone Star Fantasy Baseball League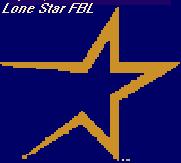 Week 17 results are here. List of weekly winners is here.
To see WEEK 19 lineups click here. 1999 team rosters (Word document)
To check up on the FBL Rule Book, click here.
For the league discussion forum and point calculation headquarters click here.
To see MLB injury reports click here. Check MLB scores here.


First half results are final. Excelerators and Mystery Hill II ended up in a dead heat for second place. Disastros held on to first despite horrific pitching in the final weeks.