Lone Star Fantasy Baseball League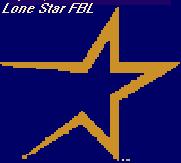 Commish's Draft Analysis
Overall I thought the owners showed more snap than ever. That being said, some picks were pretty clearly boneheaded. Here's my take on each team and each manager's draft performance.
GoofBalls, Steve Clarke
The Good: Showed me something with the Durazo pick. Nice job of putting together as solid Big Three in the rotation, led by no-brainer #1 pick Randy Johnson. Used the back-to-back picks in rounds 10-11 to snag the best two 2b on the board, forcing Rick to settle for Homer Bush and causing Doug to make a knee-jerk selection of Chuck Knoblauch. I liked the hell out of that move!
The Bad: Oops! Forgot about third base for a while there! And those pitchers start to smell after the top 5 or so.
The Inexcusable: Scott Williamson really isn't worth a pick at all, not to mention a #13.
Chiliheads, Doug Waring
The Good: Doug's rotation looks formidable, led by freeze picks Pedro and Hampton, followed by studs Cone and Wells. Potential for a dominant group of SPs. Power-laden OF that looks very familiar to the Commish.
The Bad: Knee-jerk selection of Knoblauch (see above) after burning a freeze pick on Fernando Vina. No offense in the middle of the infield. Two shaky RPs.
The Inexcusable: Rick Ankiel wasn't even a lock to start the year in AAA, hardly worth a #17 pick. Doug, didn't you learn from your mistake a few years ago when you drafted Vlad Guerrero in round 11, two years before he emerged as a full time player?
Mudslingers, Rick Milleman
The Good: Rick has the second best OF group in the league and the #3 overall offense (I've got to rate my own OF and offense #1, guys!). Maddux is a safe pick at #1 (unless I pick him there); Rick was astute in drafting pitchers at the spot in the draft (or even later) that they should have gone.
The Bad: No offense in the middle of the infield or at catcher. Two shakier RPs than Doug even. Pat Burrell looked like a great pick -- for about 5 minutes!
The Inexcusable: Roger Cedeno wouldn't have been worthy of a pick in the first 20 rounds even if he WASN'T doomed to getting knocked out by that damn center field flag pole at Enron Field before we get to the All-Star break.
Yellowfin Tuna, Richard Smith
The Good: This team is solid all the way around, but especially on the offensive side (sorry, you'll still be looking up at your Big Bro in the offensive standings all year). Tony Batista may be the steal of the draft at a #9. NO positions were punted.
The Bad: Panicked and grabbed Dotel about 10 rounds out of turn. Huge dropoff after the first four SPs. Richard's apparent strategy of assembling the oldest pitching staff in the league was abandoned starting with the Dotel pick, and was replaced by a strategy of going for the most unproven pitchers in baseball.
The Inexcusable: Randy Velarde? Hahahahahahahahahahahaha! Even if he repeats his career year (and he won't) he wouldn't be worth anything more than a 28th round pick.
Mystery Hill II, Tim Ludwig
The Good: No positions punted here, either. Not in the infield, anyway, where Tim will almost surely lead the league in offense. The Glaus pick really irked me, Ludwig.
The Bad: A pretty unremarkable group of outfielders. And what's with this Brian Anderson thing you've got?
The Inexcusable: Brian Moehler was a total waste of a draft pick. Trust me, Tim, he'd have still been on the board in round 30 even if we'd had TWENTY guys drafting!
BarleyMalts, Tim Huelsman
The Good: This pitching staff is downright scary from 1 to 4 (Brown, El Duque, Millwood, Sele). Bagwell, Belle, Burnitz -- Tim's version of the Killer B's. And that Dean Palmer pick really pissed me off. So badly in fact that I repressed it after a few beers and tried to draft Palmer myself ten rounds later.
The Bad: A strange decision to add FIVE backup outfielders to the roster. Some of these guys got picked way too early in the draft (e.g., Clayton, Lankford, Sweeney, Hentgen) and we have to question whether Tim is more loyal to the BarleyMalts or the St. Louis Cardinals (and their players and ex-players).
The Inexcusable: Speaking of loyalty to the Redbirds, that's the only explanation (besides temporary insanity) for the selection of Dave Veres.
California Diamnod Cutters, Irv Culpepper
The Good: Irv never screwed up the Commish with his picks, although he had ample opportunity to do so given that he always went twice right in front of me. I REALLY like the Febles pick, and also the Hammonds and Vazquez picks. Freezing Vladimir Guerrero at #20 is a bigger sin than me keeping A. Rod for a #12. I like the way Irv drafted his pitchers in roughly alphabetical order...
The Bad: Irv, what on earth are you doing with three closers by the end of 12 rounds?
The Inexcusable: Joe Girardi had better get his fat ass in gear or Irv may be the owner of the worst fantasy draft pick of all time.
And my team? You saw it happening and opted not to stop me from assembling another offensive juggernaut. I'll get enough starts and wins from my cast of pitching mediocrities to compensate for the lack of horses (speaking of which, I'd like to thank everyone for giving me Curt Schilling in round 9 and Kerry Wood in round 18. This will compound my offseason freeze selection problems, but I'll get over it!).
--Steve S.