Lone Star Fantasy Baseball League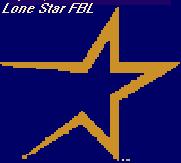 9/1/00
As forecast in this space over a month ago, the second half race in the LSFBL is wide open, with 5 teams within easy striking distance of the top. Since I am currently battling a wicked sinus infection, I could give a rat's ass about baseball this evening, but being the responsible commish that I am, I thought I would at least attempt an update of the commish column.
If anyone wants a 6-month old female black lab mix, give me a call. That little shit is destroying my house.
The students are lucky they didn't have any assignments due today, because I would probably crucify them given the constant throbbing in my head.
Sorry Tim L., I don't bet on football anymore. Right, it isn't gambling. Hahaha.
Later dudes,
--Steve