Lone Star Fantasy Baseball League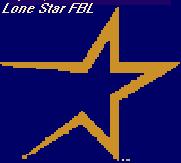 The second half of the baseball season, and the LSFBL season, is getting interesting as big league clubs swing deals with fervor and the LSFBL teams jockey for second half position. Looks like we'll have a more inclusive race this time around, not the three team monopoly we experienced in weeks 1-14. The only team that would appear to be out of the 2nd half running is -- ironically -- the first half champion Chiliheads. On top of the questionable removal of Pedro Martinez from his roster by trade, Doug lost his ace catcher Pudge Rodriguez to a freak injury (the Commish understands, see below).
The Commish's softball season received a major setback July 15th when I broke my left wrist in a freak accident. Fear not, I'm still playing, having passed on the offer of a cast and settling for a velcro splint. Problem is that I now must swing with one arm, and from the left side, to prevent further damage to the wrist. So, the longball is completely out of the picture from this point forward. However, I plan on a full recovery and an offseason of power lifting and steroid use so that the moon shots will come in 2001.
Later dudes,
--Steve