Lone Star Fantasy Baseball League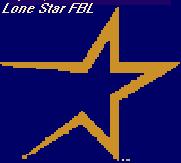 The LSFBL has never seen a race like this before. Doug Waring's Chiliheads managed to blow their considerable first-half lead but regained it during the final weekend and claimed the title of 1st Half Champion. The Big Man for the ChiliMen, appropriately, was Fat Ass David Wells, who picked up two wins to cap his 15-win first half. Mike Mussina chipped in with a huge Friday night win, edging Curt Schilling and the Phils 2-1. The Mudslingers still had an outside shot as late as Sunday, but Greg Maddux got scratched from his start and Scott Erickson pitched more like his usual self, taking a no-decision. Meanwhile, the big-talking Tim Ludwig's M-Hill Gang slid out of the money, thanks in part to the absence of Mike Hampton and Matt Clement from his lineup (each picked up two wins in week 14). In fairness to Tim...ah hell, why be fair with Tim? Also of note during week 14 -- the tragedy that is the Disastros pitching staff endured another zero-win week, allowing the GoofBalls to sneak back into 4th place for the first half, and the long-suffering Yellowfin Tuna fans finally got something to cheer about. At the end of 14 weeks, only one team has failed to win at least one week. How long is Irv's drought going to last? We shall see.
On a more pleasant note (from my perspective), my second softball season began on Monday. The first team's season runs through July 20th, when a doubleheader will put the lid on a tough run that has us at 1-5. Two of the last three losses have come in the final at-bat, one on a walkoff HR and the other on a walkoff single. The second team I'm on has a number of young, fast players and is somewhat more competitive. Unfortunately, they also lack anyone who can underhand the ball over the plate, so I'm the pitcher by default. I served up three dingers in the first inning of the first game, which we ultimately lost 17-14 after falling behind 9-0. I didn't walk anyone, buit just didn't have any action on my slider! (The truth is that the dudes on the other team almost certainly brought their game balls out of the microwave, which would explain why the balls felt so warm and also why they all stayed in the yard after inning #1). For those who are keeping track (in other words, me) I had a streak of 6 consecutive hits broken in the 17-14 loss, but started a new streak the next at-bat and now have a respectable cumulative average of .500.
Later dudes,
--Steve