Lone Star Fantasy Baseball League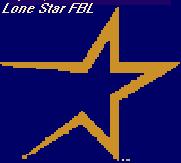 The softball season is off and running...well, maybe running isn't the right word. We've only played three games in three weeks, thanks to a badly timed storm and some idiots running the show at White County (GA) Park & Rec. My team (Episcopal Church of the Resurrection) opened the season by getting completely spanked -- a 13 to 1 disaster that was mercifully ended after 4 innings. Yours truly contributed a single and a flyout in two ABs, and threw a double-play grounder into right field from the hot corner. We made minimal improvment in game 2, losing 11-4. At least this time I didn't send any e-mail, but the bat wasn't quite there -- another 1-for2 game -- although my out was a flyball to the CF fence. Game 3 saw the ECR squad start to put it together, as we won 7-6 on a "scrape-off" single (scoring the winning run required the obliteration of the opposing catcher). Da Commish turned in some solid defense. Good thing, cuz I sucked pipe with the stick (0-for-3, and only one ball should have been a hit).
The LSFBL standings have seen some shaking lately. Ludwig has been popping off quite cockily as his team has won 3 of the last 4 weeks and moved from nowhere into 2nd place. The GoofBalls have descended to 6th (as the Commish predicted), and the BMalts are mired in 8th (the Commish predicted a long run of success -- sorry Tim!). The NKOTB (Milleman) talked his trash while he could, but a sub-300 week 12 performance has all but eliminated his chances of taking the first half, which appears to belong to Mr. Chilihead. What was your highest previous finish for a half, Doug? Maybe 4th? Nice to see persistence pay off, although I wish it wasn't my money you were being paid with.
Later dudes,
--Steve