Lone Star Fantasy Baseball League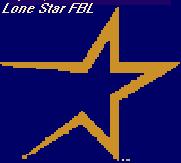 As LSFBL owners prepare for the first weekend of interleague play, the second waiver draft, summer vacations, etc., Da Commish is getting ready to teach a couple of classes in summer school (gotta keep paying that mortgage) and trying to get my aging body in decent enough shape to handle summer softball season. After a disastrous 1999 in which I tore my right hamstring in a preseason tournament, then finished tearing the rotator cuff in my right shoulder (a process that probably started in the 1980s), and proceeded to have the worst softball season of my life, I am taking precautions to minimize the injuries. Da Commish is pleased to report that things are looking (and feeling) pretty good, although my fielding range has been reduced to McGwire-like proportions (being compared to Big Mac is NOT considered a compliment when discussing defensive play). But hey, fielding doesn't mean anything to fantasy players! And -- unlike the big baby Moises Alou -- even if I'm hopping on one leg, not to mention less than 100%, I'll be in the damn lineup.
I'll probably bore you with some of my softball stories over the coming two months, if for no other reason than because I want to avoid discussing the Astros (clearly having their worst season ever) or my fantasy team (which isn't as bad as the Astros, but still makes me want to puke).
Later dudes,
--Steve