Lone Star Fantasy Baseball League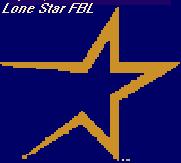 Da Commish now acknowledges that Curt Schilling and Kerry Wood are not the saviors I had imagined them to be. My hopes for a three-peat are all but gone as I find that my draft strategy has not worked. I had assumed I could grab 12 to 15 pitchers who would break even versus the league, but it appears at this point that I would have been better served to allow blind dart throws to determine my selections of starting pitchers. Same goes for my brother. Rich, you want to buy the darts or the board next year?
Thought I'd use this space to show some photos for a change.  The first one was taken just after being denied entrance to Turner Field. The second was taken a few hours (& margaritas) later. That's Irv Culpepper with the Rock t-shirt and Rick Milleman with the Tabasco shirt.