Lone Star Fantasy Baseball League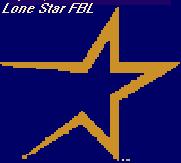 1/3 Analysis
Well, here we are, one third of the way through with the season. Time to see how things stack up, and make more predictions about what to expect in the weeks ahead. I first list the standings through week 9 and then my predicted order of finish (posted after the draft).
Current Standings:
1. Dahlonega Disastros
2. Blue Ridge Chiliheads
3. GoofBalls
4. Mystery Hill II
5. Oaktown Stars
6. DiamondCutters
7. Yellowfin Tuna
8. Mudslingers
9. BarleyMalts
10. Razorbacks
11. DNAPhreaks
Predicted Order of Finish:
1. Disastros
2. Chiliheads
3. Mudslingers
4. Tuna
5. Mystery Hill II
6. DiamondCutters
7. DNAPhreaks
8. GoofBalls
9. Razorbacks
10. Oaktown Stars
11. BarleyMalts
Goof balls, Steve Clarke
It didn't take a genius to see that the GoofBalls had a strong offensive club, but raise your hands if you anticipated Ryan Klesko being an early season MVP. Put your hand down, Clarke, if you had thought he would be this good you wouldn't have waited so long to draft his ass. The GoofSters lucked out on several late round pitcher selections, most notably Wade Miller (18th) and Kevin Tapani (19th).
I recognize that Miller is a stud, but Tapani (and Moyer for that matter) will have to fall out of his tree eventually. I see the GoofBalls falling a couple of slots to 5th. Still, better than I thought.

---
California DiamondCutters, Irv Culpepper
Thanks for making me look good, Irv. Picked to finish 6th, and currently in 6th. Gotta figure Colon will eventually start to win, but on the other hand Schoeneweis is due for some bombings.
---
Mudslingers, Rick Milleman
Not that it really bothers anyone, but Rick has probably had the worst luck of anyone as far as on-the-field performance. Maddux has been getting hosed more often than my lawn, and Rick has had a knack for always having the wrong guys in his lineup each week. Bret Boone has been the surprise of baseball, but several other Slinger sticks are underproducing (e.g., Bagwell, Kent, Damon).
Probably s bit of a rally in the second half, but it is now hard to see the Slingers contending for the overall title in 2001.

---
Yellowfin Tuna, Richard Smith
Other than John Smoltz, every risk Rich took in the draft, it came up smelling like day old tuna that has been sitting in the Houston sun. Rick Ankiel. Jose Ortiz. Kerry Wood. All taken way early, none worth anywhere near their draft position. Sasaki has kept the Tuna out of the cellar by himself.
Prognosis for the remaining 2/3: still see this team rising up and contending. Mussina, Hampton, Garcia, Smoltz and Wood still looks pretty impressive on paper.

---
Mystery Hill II, Tim Ludwig
The 2000 champs are once again "in the hunt" using the same formula -- pick up a slew of mediocre pitchers, slot them when they have double starts, and cross your fingers. More often than not, it seems like Tim's pitchers are much better during those double start weeks than they are the rest of the time. To the annoyance of many (especially Rick), those mediocrities seem to come up with a large number of wins every week. I didn't think it would happen again -- wrong, Smith. It's happening again.
---
Blue Ridge Chiliheads, Doug Waring
This is another squad that is making my predictions look good, but this squad is making me a bit anxious about hanging on to first. No weaknesses, and nobody in a tree. A very strong team that will stay in the hunt till the end.
---
BarleyMalts, Tim Huelsman
Despite numerous attempts by the Commish to make mutually beneficial trades, the Malts remain an uncompetitive squad with one great pitcher (Pedro) and whole bunch of duds around him. Thanks to the surprisingly effective Albert Pujols, Ichiro Suzuki, and Lance Berkman, the Malts have escaped the cellar, but not by much.
I still predict an 11th place finish, Tim!

---
DNAPhreaks, Julian Jolly
Still missing his #1 pick (Nomar), Julian's squad has been beset by injuries all season long. Despite sliding through the trap door and into the cellar, the Phreaks show some promise of improvement. Not only is Nomar closer to returning, but Leiter is back in form, and Armas is suddenly on a roll. Hidalgo is bound to start mashing soon, and this team will ultimately finish where I predicted in the first place - 7th.
---
Oaktown Stars, Art Sandoval
Art is determined to end up with a roster that bears no resemblance whatsoever to the one he drafted. And his strategy appears to be working: he is far ahead of the other "rookies" and has shot up into the first half of the standings. Brad Radke was obviously a steal.
---
Runnin Razorbacks, Kyle Waring
Kyle has had an up and down first 9 weeks, winning once and finishing last twice. Led by Curt Schilling (DAMN, why didn't I freeze him???), his pitching has exceeded (my) expectations, but his hitters (with the major exception of Barry Bonds) have largely underachieved (or been hurt), leaving him close to where I expected him to be.

---
Dahlonega Disastros
Even though I've gotten next to nothing from Sexson, Vidro, Rolen, the catcher position (Javy Lopez = wasted 6th round pick) and Griffey, the pitching has been outstanding. I admit that Sele going 8-0 through May was not part of my plan. But then again, Brown and Wagner going DL on the same day wasn't either. I still like my team, but having SEVEN guys on the DL doesn't make me feel very comfortable with my lead.


--Steve S.