Lone Star Fantasy Baseball League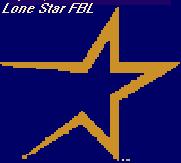 2003 Commish's Deft Draft Analysis
---
Blue Ridge Chiliheads – Doug Waring
OK, I picked Doug something like 10th last year and he won, so I'll try to be nicer this time. Doug obviously has the team to beat based on last season, and his freezes gave him an edge even before he won the A Rod lottery (and no, he didn't get that for sending the largest bribe check...although it was a pleasant surprise).
Look at that infield offense...on second thought, don't. I mean, Tejada is a backup, how crazy is that? And his outfield is pretty scary, too, especially if Juan Gone stays healthy (but Doug can't get that lucky, can he?).. I have no choice but to award a preseason 'A' to this offensive squad. Of course, putting together such a dominant offense must have a price, and it is that Doug will need divine intervention to field a competitive pitching staff, just like happened last year (actually, a rookie owner intervened by getting fleeced). Clemens and Pettitte are probably still good for 12-15 wins apiece, but they also good for the team trainer and are the reason Steinbrenner has lots of insurance (that, and his desire to have David Wells kidnapped and handcuffed to Saddam Hussein). I'd like to give a lower grade here, but he does have Smoltz, by all accounts the best golfer in MLB.
Best Pick: Juan Gonzalez, 10th round. I came very close to drafting him in round 8.
Worst Pick: Tony Armas Jr., 11th round. Last year's 4.44 ERA is going to look good after a couple of outings in that little league sized stadium in San Juan.
Best Potential Freeze Pick: Jesse Foppert, 27th round. Who cares if he can pitch, what a name!
Most Pivotal Player: Jose Contreras. If Clemens or Pettitte go down, well George isn't paying this Cuban guy $8 million to roll cigars, so the injured granddads probably won't be coming back until September or October.
Overall Hitting: A
Overall Pitching: C
Projected Finish: 4th place
---
Hog Mountain Pygmies - Rick Milleman
Once again, Rick was the unofficial winner of the coveted "shit!" award -- given to the person who makes the picks that elicit the most profanities in the draft chat board. His astute drafting, combined with a couple of primo freezes at 2b and 3b, mean another contending year is likely.
Since he decided to use his first four picks on pitchers, you might expect Rick to have a weak offense, but that is not the case. He froze most of his infield, and managed to squeeze in at least a couple of serviceable OFs before they were all taken. I'd call this a solid average offense and give it a B.
On the mound, unfortunately we know what to expect from The Unit, which is why I doubt I was the only one gnashing my teeth upon seeing the draft order pop up. Rick's top two SPs are the equal of anybody's, and he makes up in quantity what he may lack in quality down the rest of the rotation. Several intriguing selections...Weaver, Meche, El Duque...I imagine some of them will go bust but not all of them. Above average pitching staff, but I can't give you an A when you keep trying to pillage Red Sox pitchers.
FYI, there is no truth to the rumor that Rick attempted to pull off a sand-for-oil trade with the Iraqis.
Best Pick: Orlando Hernandez, 23rd round. Yes, he's probably 45 now, but he can still pitch, and having Livan around might make him happier.
Worst Pick: Jeff Weaver, 4th round. He'll do well, but could have been taken in the 7th
Best Potential Freeze Pick: Gil Meche, round 21...I've been reading about this guy for years; has he ever actually played? Sidd Fynch is Rick's team captain...I see a connection.
Most Pivotal Player: Jose Hernandez. Maybe the humidor will make the balls swell up big enough so he can actually put a bat on them. No way he hits .288 again, but he could go for 30+ jacks.
Overall Hitting: B-
Overall Pitching: B+
Projected Finish: 3rd place
---
PharmAnimals – Julian Jolly
First, my thanks also to JJ for serving as a draft assistant, keeping our two nonchatting owners posted for over four hours. Um, you can use that as an excuse for this mediocre team. Offensively, nothing imposing besides Scott Rolen on the infield, and although the Joneses make a nice outfield pair, they look pretty lonesome on this roster. This isn't a pathetic offense but it looks below league average to me.
Looks like Julian grabbed the wrong list when it came time to draft pitchers, and consequently he may be embezzling from his employer to keep five starters in the rotation. Let's see, Pedro, Burnett, Beckett, Dreifort, Milton, Sheets, Hoffman. Oops, that was the Eckerd customer appreciation list, wasn't it? IF they all stay healthy (not counting Milton and Hoffman, who I assume were taken for their freeze potential), this is an above average staff.
Best Pick: Ryan Klesko, 9th round. Just too studly to last that long.
Worst Pick: Andy Ashby, 16th round. A high price for a #6 on his own team whose best days are long gone
Best Potential Freeze Pick: Eric Milton, 26th round.
Best Potential NBA Freeze Pick: Mark Hendrickson, 29th round.
Most Pivotal Player: Dr. James Andrews, who needs to say something good about a pitcher's arm once in his life but has managed to avoid it so far.
Overall Hitting: C-
Overall Pitching: B-
Projected Finish: 9th place
---
Flaming Idiots – Stephen Williams
It's tough being a rookie in this league. It's tougher being a rookie in this league and making most of your picks on the phone with about one minute of processing time. It's tougher still if that phone is inside a car going 80 mph. Stephen (aka Slick Willy) survived his drive back to Austin. His chances of being our first rookie champion died somewhere around College Station (appropriately, since that's where losers belong, in my opinion!).
This is a very balanced team. In fact I see it as equally mediocre on both sides. Average offense, average pitching staff. My guess is that Willy plans to do some wheeling, since he has three 2b and six OF, but he'll be hard pressed to set a rookie record in that department, either. On a personal note, please give me a chance to match any offers you get for Schilling.
Best Pick: Pedro Astacio, 21st round. His shoulder is always a concern, but he won 12 with it last year for a team that can't possibly be as bad this year. Can it?
Worst Pick: Todd Zeile, 20th round. We're still trying to figure that one out.
Best Potential Freeze Pick: Joe Thurston (round 22), perhaps the first black player ever referred to in the white media as "scrappy."
Most Pivotal Player: Schilling. Don't trade him.
Overall Hitting: B-
Overall Pitching: B--
Projected Finish: 8th place
---
BarleyMalts – Tim Huelsman
The league treasurer once again relied on his allegiance to the Redbirds to guide him to fantasy gold. But as we all know, the only way to turn red into gold would be as an Enron accountant. OK, this is getting stupid, let's look at his players. As for the infield, Giambi is a monster, but he isn't a one-man team. He couldn't even win the trophy with $150 million in talent around him. I rate this as a below average infield. But the outfield of Gonzo, Pujols and Berkman could be the best in the league. Overall, then, a league average offense, maybe better. Same with the staff, about league average unless this Horacio Ramirez kid forgets to come back down to earth.
Best Pick: Chuck Finley, 25th round...if he signs with St. Louis and avoids getting ass- kicked by any more women
Worst Pick: Brad Ausmus, 19th. Handles the staff well, that would be worth 0 fantasy points.
Best Potential Freeze Pick: Horacio Ramirez, 23rd round
Most Pivotal Player: Tie between Luis Gonzalez and Randy Wolf. Both need to improve considerably on their 2002 numbers for the BMalts to contend.
Overall Hitting: B-
Overall Pitching: B-
Projected Finish: 7th place
---
Oaktown Stars - Art Sandoval
I picked Art to win it all last year -- he recognized this as a kiss of death -- eliciting injuries to Mark Mulder and Wade Miller, and the unfortunate decision to then jettison Mulder. He begged not to be picked to win again. Your wish is granted.
But I really like this team. If I had to trade rosters with someone...well, I'd probably quit the league. But I think I would first consider a trade with Arturo (unless I could just trade offenses, in which case I would gladly accept the pain of having to decide each week whether to start A Rod or Tejada at shortstop). Art's infield has no glaring holes. His outfield has no glaring holes – unless you are a fan seeking an autograph from Barry Bonds. His top three starting pitchers are, basically, unsurpassed. The Achilles heel, and the reason he will ultimately fall, is his bottom-tier pitching. He goes about seven deep. A couple of other staffs go ten deep. That lack of supplementary SPs who can be trusted with a slot on their double-start weeks will make the difference.
Best Pick: Brian Lawrence, 11th round. Something about having a bald monk as a mascot seems to help players stay underneath radar.
Worst Pick: Brett Tomko, 6th round. General consensus was he would have lasted 7-10 more rounds, but I didn't ask Huelsman.
Best Potential Freeze Pick: J.D. Drew, 21st round.
Most Pivotal Player: Charles Johnson. He will be that glaring hole if he hits like last year.
Overall Hitting: B+
Overall Pitching: A-
Projected Finish: 2nd place
---
Mystery Hill – Tim Ludwig
Tim appears to have a pretty balanced team to start the season, and I have to think he won't see his top three picks get injured this year. This year's Hill squad should be pretty solid offensively, with above average hitters in the infield and a couple of proven hitters in the OF. I do find it rather curious that Tim has three DHs but no backup C or SS, but I guess that's why Mystery is in the team name.
Question marks abound on the MH staff, and I doubt the answers can be found in David Wells' book. Will Colon's arm fall off this year, or next year? Was Elmer the league's luckiest pitcher last year? Will the Coneheads make a comeback? Are you sick of this gimmick yet? I thought so.
Best Pick: Fat Ass Wells, 7th round. You have to plug your nostrils to take him, but he's a good bet to win at least 14 as long as he stays drunk.
Worst Pick: Robin Ventura, 17th round. This seems pretty early to pick up a platoon player (and if A. Huff ends up playing 3B for TB, Ventura is Tim's third third-sacker).
Best Potential Freeze Pick: Kurt Ainsworth, 22nd round.
Most Pivotal Player: Moises Alou. If he sucks again, Sammy may not see a strike all year.
Overall Hitting: B
Overall Pitching: B-
Projected Finish: 6th place
---
Sig Ep Stunnas - Kyle Waring
I guess if you want your team to sound like a beverage at a frat party, that's your business. Here's Kyle's assessment of his team, in his own words (but my spelling):
Outfield. Cool. Infield. OK. Wagner. Cool. Starting pitchers. Damn.
Well put, Kyle. Have another beer.
Best Pick: Jamie Moyer, 8th round. WalMart checkout lines have been known to move more rapidly than his fastball, but he still somehow wins games.
Worst Pick: Mark Ellis, 12th round. Must have thought he was picking Dock Ellis.
Best Potential Freeze Pick: Brandon Phillips, 19th round. Heir apparent to the SS job in Cleveland as soon as they can convince Vizquel to accept his Social Security.
Most Pivotal Player: Tom Glavine. Will he still get a 3' wide zone? Does it matter that he is going from the best defensive CF in baseball to one of the worst in history?
Overall Hitting: C+
Overall Pitching: C
Projected Finish: 10th
---
DiamondCutters – Irv Culpepper
Congratulations on bringing the Flying Ortiz Brothers together again. Unfortunately, Irv forgot to draft Gary Matthews Jr., but I understand he plans on getting him in the waiver draft so he can also start a three-Junior outfield. Fell short of his roster goal of five catchers and four utility infielders. Did anyone try and keep track of the number of invalid picks Irv made on Saturday? The early start time put this Left Coast member at a disavantage. But no excuses, he's a big man and he doesn't want any part of them. He's a really big man.
Irv's draft clearly didn't go well. Take his infield. Please. His middle infielders – Vizquel and Bellhorn – may well combine for fewer points than Doug gets just from his backup shortstop. If Griffey can stay healthy this could be a great outfield. And if Irv can drop from 22 hamburgers a week to only one, then I guess anything is possible.

Best Pick: Mo Vaughn, 11th round. I hear Mo also cut back on the burgers.
Worst Pick: Shea Hillenbrand, 7th round. Even if he gets traded to the Mets, he's a starting 3b in a severe pitcher's park. If he stays in Boston, he's a platoon player. Ouch.
Best Potential Freeze Pick: Ken Griffey Jr., 6th round...if he really is Junior again.
Most Pivotal Player: Griffey wins again.
Overall Hitting: B
Overall Pitching: C-
Projected Finish: 10th place
---
Dahlonega Disastros – Da Commish
While I appreciate Tim L's willingness to share his prognostications, I don't share his assessment of my offense. He's probably right about my pitching staff being the second best, behind Oaktown's. But he completely dismissed my offense. Tim, wanna make a little side bet on which of us has more positions in the lineup which will surpass 20 HRs? I got $5 says the answer is mine -- cuz all nine of them will.
Best Pick: Woody Williams, 9th round. If I have to put the hex on one of my own players, he may as well be a Card.
Worst Pick: Frank Thomas, 12th round. What can I say, I own a Frank Thomas beanie baby too.
Best Potential Freeze Pick: Jose Contreras, 15th round. I'll use this jinx on the Yankees.
Most Pivotal Player: Byung-Hyun Kim. Can he be this year's Derek Lowe? He's got the stuff.
Overall Hitting: B+
Overall Pitching: A
Projected Finish: 1st place...you'd expect nothing less from a man of my arrogance. Besides, I picked myself #2 last year and that's exactly where I finished.
---
Gofblals - Steev Clakre
Loaded up on OF early, so he's looking good there. The rest of the offense will include the rising Derrek Lee, the fading Crime Dog, the aging Edgardo Alfonzo, the even more aging Robbie Alomar, the unpredictable Jimmy Rollins, and the rather inept Damian Miller. To me, that works out to an average offense. Jason Schmidt heads a rotation chock full of assorted has-beens (Leiter, Trachsel), basket cases (Park, Ishii, Estes), and 6th starters (V.Zambrano, P.Wilson). Easily the worst staff in the league.
Best Pick: Eric Young, 23rd round. I predict he will be the Goofball starter by May.
Worst Pick: Sean Burroughs, 14th round
Best Potential Freeze Pick: Matt Mantei, 26th round. Too bad it's at a position where freezes are basically a waste.
Most Pivotal Player: Roberto Alomar. He looked helpless last year. Was it just a 162-game slump?
Overall Hitting: B-
Overall Pitching: D-
Projected Finish: 12th
---
Georgia Clones – Jonathon Wetherington
"I support what we're doing. If we don't do it, who's going to do it? All I know is that unless Saddam starts throwing heaters middle in, there's nothing I can do.'' -- Mike Lowell, Clones 3rd baseman
That quote has very little to do with the actual forecast for Jon's team. Neither does Mike Lowell, actually, since he's just a league average player. But the lack of league average players at 2b, ss, and C have already pushed Jon to the brink of madness. Did he simply screw up, or was he just looking to give himself an excuse to commence trade negotiations before the season starts? Only he knows for sure. One thing we all know for sure, it is pointless to make forecasts based on the team he drafted. Who will be the first to go (not counting the imminently waive-able Zach Day)?
Best Pick: Kevin Brown, 8th round. Jon will trade him the day before his arm snaps off.
Worst Pick: Einar Diaz, 23rd round. It's amazing that he didn't pounce sooner.
Best Potential Freeze Pick: Orlando Hudson, 18th round.
Most Pivotal Player: Kevin Millwood. Great year last year – after he left my roster, thanks so much. But that was as a #3. Now he has the pressure of being a #1. And he has those adorable Philly fans.
Overall Hitting: C
Overall Pitching: A
Projected Finish: 5th place
---
Overall Projected Finish
1. Dahlonega Disastros
2. Oaktown Stars
3. Hog Mountain Pygmies
4. Blue Ridge Chiliheads
5. Georgia Clones
6. Mystery Hill
7. BarleyMalts
8. Flaming Idiots
9. PharmAnimals
10. DiamondCutters
11. Sig Ep Stunnas
12. Goofballs
Swing Away,
--Steve S.