Lone Star Fantasy Baseball League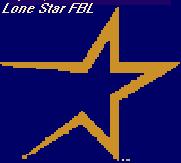 Commish's Draft Analysis
We have seen Tim Ludwig's mid-draft assessment – now is the time for the Commish to evaluate the post-draft LSFBL rosters. I will assess and rank all the teams except my own, since like any good owner I left the draft convinced that I had the #1 team.
Goof balls, Steve Clarke
Steve chose well in the early rounds, and put together what seems clearly to be the top starting OF group (Sosa, Giles, and Juan Gone). His starting infield is close to the best as well, with Kendall and Alomar as his premier players and quality at every position. He went high-risk high-reward with his backups, choosing antiques such as Crime Dog, Caminiti and Burks. Hard to see them being anything but window dressing.
Overall offensive grade = A-
Pitching is another story altogether. Clarke's only quality starter, Livan Hernandez, reported to camp after swallowing several small Caribbean islands. To put it kindly, Clarke's selection of pitchers was eccentric. To put it bluntly, he could have done better with a random number generator. He must have been serious about those Bloody Marys on draft Saturday. Keith Foulke seems like a decent closer, and he'd better be since his backup on this roster is absolute loser (and Twin) LaTroy Hawkins.
Overall pitching grade = D
Projected Finish: 8th

---
California DiamondCutters, Irv Culpepper
Poor Irv was outdueled at every corner, as the players he had targeted were consistently taken just before his turn arrived. Still, he ended up with a decent starting outfield (thanks largely to the out-of-his-ass lucky Vlad Guerrero pick of 3 years ago). Other than Helton and the Pizza Man, his infield positions are scary (and I don't mean to his fellow owners). He sure as hell has the catcher position backed up. If we started four catchers in this league, Irv's draft might be intelligible by life forms not named Irv Culpepper (assuming that Irv himself was conscious of what he was doing, which may be an unsafe assumption given that we started at 6am his time on Saturday).
The way Irv approaches pitchers appears to be to sneak them in 5 rounds before anyone else sees their name on the draft list. Other than Colon, this staff looks pretty weak. Kile won't win 20 again unless he really did sell his soul to Satan as rumored. Nobody else on this staff will win more than 12. Nen is a dominant closer, and Roberto Hernandez is a solid backup.
Overall pitching grade = C
Projected Finish: 6th

---
Mudslingers, Rick Milleman
The newlywed had a pretty good draft going (although that Yahoo thing got to be annoying) up until Saturday. Then -- this is just my guess as to what happened -- the new Mrs. Milleman took over the selection process.
Still, Rick ended up with 60% of a good infield in Bagwell, Kent, and Vizquel. He will LaRue his picks at catcher and third, though. He already rues his selection of Carl Everett, just like the Sox regret having traded for his sorry, selfish ass. If Jermaine Dye can't reproduce his mammoth 200 numbers (and he won't), this outfield will be average at best.
Overall offensive grade = B-
Rick knows how to pick pitchers, and luckily he already had a solid staff assembled before Mrs. Milleman started drafting. Nobody can top his first four of Maddux, Wells, Finley and Elarton. On the other hand, nobody can bottom his second string (Reames? Person? Reichert? good Lord! this is hideous!) And the exploits of 6-fingers Alfonseca promise to take a few years off Rick's life expectancy this summer.
Overall pitching grade = B+
Projected Finish: 3rd

---
Yellowfin Tuna, Richard Smith
He annoyed a lot of us with his Saturday meditation periods, but "Little Brother" (who outweighs me by at least 40 pounds) put together what I think is the most balanced squad in the league. Unfortunately, he also has a balance of players who are suiting up and players who are in rehab. The latest news on Smoltz, and the latest fireworks display from Ankiel force me to downgrade this roster a notch or two.
The Tuna offense will once again come from Furcal, Maggs, Jays' studs Del-Gone-O and Batista, plus the Brew Crew pair of Jenkins and Burnitz. It would be surprising if this offense wasn't in the top half of the standings in all the major categories.
Overall offensive grade = B+
Can't go wrong with the Moose in pinstripes. I like the Hampton and Neagle picks -- everyone undervalues COL pitchers -- hey guys, this is NOT an ERA league! Ankiel will either be a brilliant pick or a complete waste - same with Smoltz. How -- and IF -- they perform this year will determine the destiny of this squad. Sasaki and Percival are solid closers, so he won't lose ground in saves. But the help behind his top starters consists of unproven rookies and proven (to be LOSERS) veterans.
Overall pitching grade = B-
Projected Finish: 4th

---
Mystery Hill II, Tim Ludwig
The defending League Champs drew the #1 draft position to lock down Pudge Rodriguez, sending Irv into . The next pick, Chan Ho, was inarguably a solid one. After that, the Lud flipped his Wig. Most of his infielders are solid, but that's because he had Glaus and Jeter as returning studs (and I'm still pissed about that Glaus pick last year! He was MINE!). Sweeney and Durham were drafted a round or two before they were due. Alou in the 6th round has already proved to be a bad move, and the Fish Boy in round 9? Whatever. I can't say this offense sucks, but it could have been even better.
Overall offensive grade = B
Like I said, Park was a solid pick. Tim knows how to load up on mediocre pitchers (it won him a title, didn't it?) and he went back to that approach to round out his staff. His love affair with Woody Williams continues to amuse us, and his attachment to the Tiggers once again led to silly picks (and a silly freeze! Todd Jones will return to his sucky form this year). We can only hope that Tim puts Jose Lima into his rotation -- although it seems likely that he won't since the Astros may drop him once Shane Reynolds comes back next week.
Overall pitching grade = C
Projected Finish: 5th

---
Blue Ridge Chiliheads, Doug Waring
damn you Doug Waring! My draft "strategy" -- if you want to call it that -- has been to not "desire" any particular players. It leads to (a) drafting players way before their time and (b) spazzing out when someone else takes them. But I REAAALLLY wanted Pat Burrell. And I admit it, I wanted Larry Walker too. So curse you for taking the guys I wanted. My own fault, though. I was close to picking Burrell as early as round 7, just didn't get around to pulling the trigger. This offense will rock, especially the infield (I'm counting Big Hurt as an infielder). Biggio is the only ? Sheffield, Walker and Burrell will rack up the points, so what if Walker misses 30 games?
Overall offensive grade = A
Well, at least the damned Waring didn't steal any of the pitchers I had targeted (not that I got all of them, though). Hudson (freeze pick) is the only one I'd covet. Eldred's arm is stapled together, Matt Morris hasn't started a ML game in about 5 years, and a few of these guys don't belong in BASEBALL, much less a FANTASY TEAM. (Yeah, I'm talking about YOU, Ismael Valdes). Still, there are some Ws tucked into the rotation, even if they'll be of the 10-7 variety (e.g., The Gambler, Chris Carpenter, Reynoso). I still say that Rocker will implode this year, but Urbina looks muy bueno.
Overall pitching grade = B-
Projected Finish: 2nd

---
BarleyMalts, Tim Huelsman
As I see it, this is the ugliest roster in the league. Tim, this analysis should make you very excited. Recall last year's Commish Analysis -- I projected the BMalts as a serious title contender. Yeah, that was accurate.
Productive Offensive Players: Raffy Palmeiro. Offensive Placeholders: Sixteen
Productive Pitchers: Pedro Martinez, Mariano Rivera. RagArms: 10
Projected Finish: 11th by several laps

---
DNAPhreaks, Julian Jolly
J.J. knows his baseball, and is no stranger to fantasy baseball. But this isn't Rotisserie, Julian, and those SBs and low ERAs won't mean dick when we're done adding the points. J.J.'s infield took a major hit with the Nomar News, but we all saw that one coming. Sorry dude, but this is the sorriest infield offense in the league. As for the outfield, I wouldn't mind having Doggie on my squad. Who wouldn't? But Edmonds cannot climb into that redwood again, neither can Higginson, and what the fuck with that Bergeron pick?
Overall offensive grade = C-
Glavine and Leiter are due for a little regression to the mean (sorry TommyBo, no more extra 6" of plate to feast on!), but are still quality SP. There are no duds on J.J.s staff, he didn't get on the "boneheaded picks bandwagon" that his peers jumped on, but nothing to get a hard-on over, either.
Overall pitching grade = B+
Projected Finish: 7th

---
Oaktown Stars, Art Sandoval
Art could use a better draft tutor. At least his favorite team has some good players on it. Imagine what this roster might look like if Art was an Orioles fan! Junior's punk ass will drag all year -- what a crybaby. You guys thought I would take him again with my #1 pick. Fat chance -- he killed me. Andruw Jones was a smart freeze pickup, but the rest of these guys are punks.
Overall offensive grade = C+
Pettitte makes me puke. Soft-tossing bastard sure didn't deserve 19 wins last year. Stottlemyre in the 11th round? You must read a different medical report than we do, Art. Glad we got you the right Benes, but as Rick pointed out, they both SUCK.
Overall pitching grade = B-
Projected Finish: 10th

---
Runnin Razorbacks, Kyle Waring
Doug Jr. got off to a rocky start on draft Saturday. Once he masters the Internet, Junior might just do something in this league, but I can't see a teenager competing with the Big Boys. And he will NEVER win the league with "Razorbacks" in his team name. Kyle will no doubt be subjected to a large volume of trade offers for Barry Bonds and Randy Johnson. The Commish will be watching carefully for Kyle & Doug trades involving these players. I...smell...VETO!!!
Overall offensive grade = B-
Overall pitching grade = B-
Projected Finish: 9th
---
Predicted Final Standings:
1. Dahlonega Disastros (of course)
2. Blue Ridge Chiliheads
3. Mudslingers
4. Yellowfin Tuna
5. Mystery Hill II
6. California DiamondCutters
7. DNAPhreaks
8. GoofBalls
9. Runnin Razorbacks
10. Oaktown Stars
11. BarleyMalts
--Steve S.